The History of Wedding Bands
The History of Wedding Bands
Posted on Monday, July 16th, 2018 at 1:53 pm by Hotdog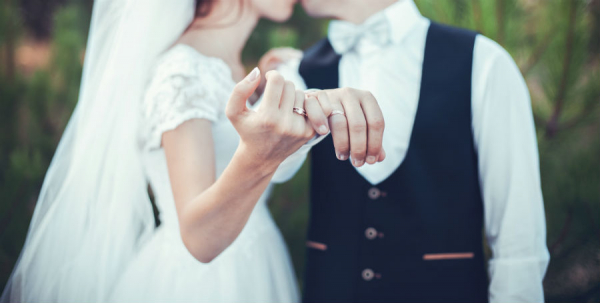 From the location and the gown, to the flowers and your cake, everything is special about your wedding day. Whether you observe family traditions, religious rites, or completely do your own thing, the tradition of exchanging wedding bands has remained the same for centuries.
The History of Wedding Rings and Wedding Bands
Although the exact history is unknown, it's believed that the tradition of wearing a wedding ring or band started – with either ancient Egyptians or Romans. Artifact discoveries have allowed for some speculation regarding the ancient culture that may lead to some of the traditions behind wearing a symbol of matrimony.
The circle, with no beginning or end, has often been a symbol of endless love, and thus a ring provided the perfect public symbol that one's heart was already taken. Additionally, the Romans and Egyptians alike choose to wear the wedding band on the ring finger of the left hand because they believed that the 'vena amoris" or "vein of love" was contained in this finger and that it directly connected with the heart. How romantic! The concept became traditionalized and ultimately spread to other cultures. Centuries later, this concept remains the pinnacle of tradition in marriage ceremonies.
Types of Wedding Rings
Like any adornment wedding band styles are subject to change based on current fashion trends. These ever-evolving trends lead to endless options for couples to express their own unique style. The most traditional wedding bands are made in any one of the four precious metals of gold, platinum, palladium, or silver. Although at The Ring we recommend sticking with a precious metal for your forever band, there are also alternative metals to choose from including: cobalt, titanium, tungsten, and ceramic just to name a few. With so many options it may be difficult to buy just one.
How to Find What's Best for You
Try it on! They say pictures are worth a thousand words, but when it comes to picking your wedding band you can't beat seeing it on your own finger. Whether you are looking for a band that perfectly contours around your engagement ring or the more modern personalized stack look you're sure to find the perfect look at The Ring.
For the men, we have everything from traditional gold, to tungsten, to diamond bands. In fact, we have the largest selection of men's bands in Central Texas for you to try on and find your perfect style. Along with our vast selection, we can personalize any style, or create a custom band to your specifications!
Shopping for you and your significant other's wedding bands? Stop in during our Summer Wedding Band Event from July 20 to July 22 and get 10% off all men's and women's wedding bands!
Why shop at The Ring Austin? We offer a relaxed and fun environment that is unlike those dark and dreary jewelry stores. We have open cases and a knowledgeable staff that is eager to help you find what works best for your style and budget.