3 Reasons to Choose a Precious Metal Weddi...
3 Reasons to Choose a Precious Metal Wedding Band
Posted on Monday, June 26th, 2017 at 3:41 pm by Shannon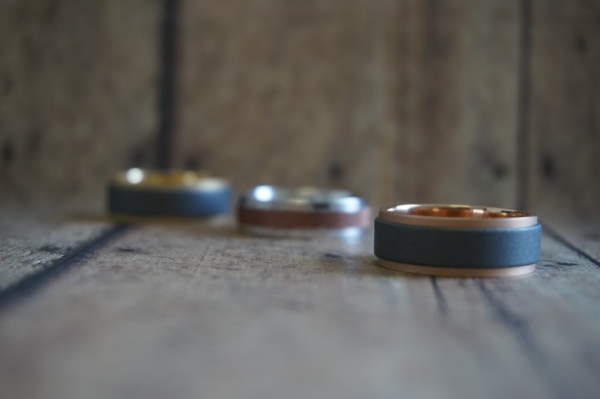 In this day and age, the variety of materials used for men's wedding bands is almost as plentiful as the number of different styles available. In recent years, the popularity of contemporary metals – such as tungsten carbide, titanium, stainless steel and cobalt chrome – has increased dramatically. Although these modern materials do have their advantages, many people believe that nothing can quite compare to men's wedding bands made from one of the precious metals: gold, platinum, silver or palladium.
You may pay a bit more for wedding bands made of precious metals, but metals like gold, platinum and silver offer a number of benefits that make them worth your consideration! Here are a few reasons to consider choosing a precious metal for your wedding band:
1. Precious Metals Can Be Resized
Unlike most of the alternative metals, men's wedding bands made from any of the precious metals can be resized should his ring size change in the future. This can be especially important for a piece of jewelry like a wedding band, which your husband will wear each and every day. It's not unusual for someone's ring size to change at least once throughout the course of the next several years. When it does, a wedding band made from any of the precious metals can be resized accordingly.
2. Precious Metal Jewelry Can Become An Heirloom
Many people want to be able to pass down jewelry from one generation to the next, particularly women and men's wedding bands. Although you could certainly do this no matter what material the jewelry is made of, the fact that precious metals are more valuable than contemporary materials makes a ring made of gold or platinum, for example, perfect to pass along to your children or grandchildren as an heirloom. Remember, also, that because precious metals can be resized, it makes it much more likely that lucky recipient of the heirloom will be able to have the wedding band resized so it can actually be worn.
3. Precious Metal Wedding Bands Can Be More Easily Restored
Although all types of jewelry can be repaired to a certain extent if they become worn or damaged, it's much easier to find a professional jeweler who restores rings and other pieces made from precious metals. These metals also lend themselves much more readily to the restoration process – whether it involves reshaping the ring, restoring its original luster or adding additional material to reinforce the piece.
If you are worried that a precious metal wedding band won't be as durable as you need it to be, consider getting a sports band in an alternative metal! Sports bands are a second wedding band that can be worn during physical activities, vacations or any other time you are worried you might damage or lose your original wedding ring.