5 Tips When Shopping For Men's Wedding B...
5 Tips When Shopping For Men's Wedding Bands
Posted on Thursday, September 1st, 2016 at 7:31 am by Shannon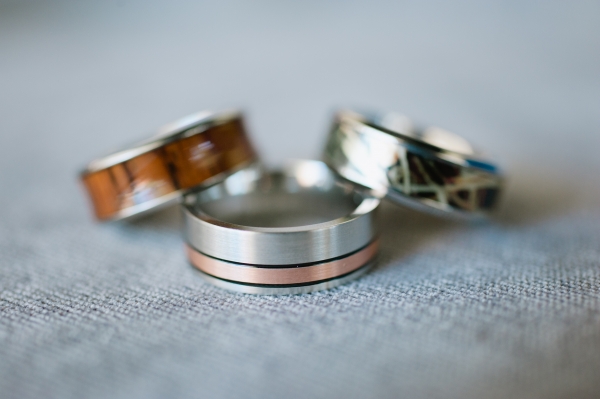 Before you start shopping for the perfect men's wedding bands take a look at these 5 tips!
Gone are the days when selecting a men's wedding band meant you had two choices: a choice between gold (white or yellow) and maybe a pattern or some diamonds. Today, there are more styles, metal types, finishes and designs of men's wedding bands than ever before. So how to you know where to start when you begin before shopping for a wedding band in Austin? Take a look at our top 5 tips!
1. Choose a wedding band that fits your lifestyle
Everyone is different and finding the best ring for your lifestyle is important! If you know work or hobbies will be rough on your wedding band, look for a metal like tungsten that will better be able to handle the roughness without getting scratched or damaged. Also consider how wide you want the ring to be. Trying on several different rings with different widths can help you find the size that works for you.
2. Choosing a metal for your wedding band
Traditional men's wedding bands are made of yellow gold, white gold, platinum and palladium. Alternative metals like titanium and tungsten are becoming more popular metal choice due to their durability and resistance to scratches and normal wear and tear. Ceramic rings are another popular wedding band choice for men. Ceramic rings are lightweight, hypoallergenic and also scratch resistant.
3. Choosing the right fit
You're going to be wearing your wedding band for the rest of your life, so you are going to want to make sure it is comfortable to wear! The edges of a men's wedding band can be curved or flat (forming a 90-degree angle at the edge) and the inside of most wedding bands have a soft curve that makes wearing the ring more comfortable. What the best way to find the right fit? Try on as many rings as you want until you find one that fits you best!
4. Choosing the right finish
The word "finish" describes the texture of the wedding band's metal. For example, a matte wedding band is going to have a less reflective finish than a high-polished wedding band. If you can't decide, choose both! Many wedding bands combine both matte and high polish textures to create a unique wedding band option.
5. It's all in the details
Once you have found a wedding band style and finish you like, personalize it to make it as unique as your love story. Engraving your fiancé's name or initials on the inside of the band is a great way to give your ring extra meaning. You can also add diamond or gemstone accents to your ring to complement your fiancé's wedding band design.
At The Ring Austin we are proud to carry the largest selection of men's wedding bands in central Texas. Visit us today to view our selection of classic, modern and alternative metal men's wedding bands or work with one of our trained professionals to design a wedding band that is unique as your own love story.