What You Need To Know About Alternative Me...
What You Need To Know About Alternative Metal Wedding Bands
Posted on Thursday, June 22nd, 2017 at 3:54 pm by Shannon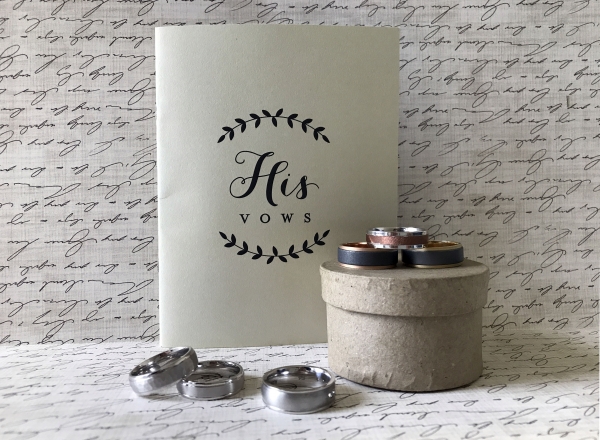 When it comes time to purchase your wedding rings, the process can be overwhelming. There are so many things you need to think about before you buy a ring that you will be wearing for life. But, one of the very first things you should consider before buying your ring is the types of wedding ring metals that will work for you and your significant other. Not all wedding ring metals should be treated equal. Each metal type has its own unique characteristics that could make a big difference.
Beyond the three precious metals we all know so well, there is a world of metals that have become popular for wedding bands including cobalt, titanium, tungsten, and many more. Known as "alternative metals" these wedding bands are made from metals not included in the precious metal category (gold, silver, platinum). These alternative metals aren't typically seen in women's engagement rings, but can offer contemporary looks for men's wedding bands that will complement a gold or platinum engagement ring.
Before you decide to go with an alternative metal wedding band, consider these three things:
1. Resizing Alternative Metal Wedding Bands
Despite what some jewels will tell you, most alternative metal wedding bands cannot be resized. Yes, you read that right. Should you ever need to have your wedding band resized (which is common) you will have to get an entirely new ring. While some jewelers will charge a $50-$75 resizing fee for an alternative metal ring what they are actually doing is traded in your wedding band for an entirely new ring is the new size. Wedding bands made out of titanium and tungsten are a good example of this.
2. Discontinued Alternative Metal Wedding Bands
So many new styles, designs and combinations of alternative metal wedding bands come out each year! Unfortunately, many are often discontinued just as quickly as they hit the market. While choosing an alternative metal may seem like a great way to personalize your wedding band make sure you are prepared just in case the one you choose is discontinued later on. This could cause problems when it comes to resizing your ring and even worse, not being able to replace it if you lose it.
3. Sentimental Value
Probably the most important factor to consider before you choose an alternative metal for your wedding band is the overall sentimental value of the ring itself. After all, this ring represents a lifetime of love and commitment for your significant other. If you choose an alternative metal and need it resized in the future the actual ring you were wed with will be replaced with a new ring in the new size. While the new ring may look the same, just know it will not be the exact ring. While this may not be a concern to some, it's important to consider it now before you have to make a tough decision!
Benefits of Alternative Metal Wedding Bands
One of the main benefits of alternative metal wedding bands is their durability. Alternative metals like tungsten and cobalt are extremely scratch resistant and almost shatterproof which is major benefit for men who work with their hands. The durability of alternative metal wedding bands also makes them an ideal choice as sports bands. Sports bands are a second wedding band that can be worn during physical activities, vacations or any other time you are worried you might damage or lose your original wedding ring. So, if you are worried that a precious metal wedding band won't be as durable as you need it to be consider getting a sports band in an alternative metal and have the best of both worlds!