Shopping For A Wedding Band? Check Out The...
Shopping For A Wedding Band? Check Out These 5 Tips!
Posted on Friday, March 17th, 2017 at 9:01 am by Shannon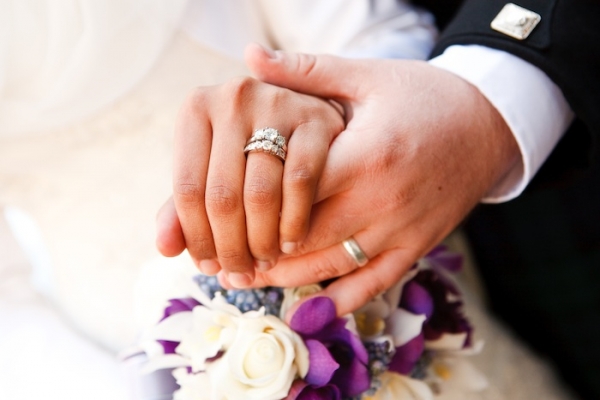 Ready to find your perfect wedding band? Take a look at our expert tips before you start shopping!
1. Narrow Down Your Wedding Ring Choices
Your options may seem overwhelming at first, but don't panic! Start with the style first: what is it that YOU want? Are you envisioning a simple band or one with embellishments? Do you think you and your partner's rings should match? Work out these kind of questions beforehand so you can zero in on exactly what you're looking for, then start shopping around.
Pro Tip: choose a ring that's the same metal as your engagement ring. Platinum and white gold look pretty much the same when they're brand new, but metals wear differently, so you could wind up with two very different looking rings in just a few years.
2. Start Shopping For Wedding Bands Early
Give yourselves at least two to three months before the wedding date to ring shop. You'll need this time to browse, research prices and revisit rings that catch your eye. If you have your heart set on a custom ring, you'll probably need even more time. And keep in mind: extras, like engraving, can take up to one month.
Pro Tip: Personalize your wedding band to make it as unique as your love story. Get tips here.
3. Think Long Term Before You Buy Your Wedding Band
While you shouldn't be afraid of being trendy, make sure the style you choose is something you'll want to wear for, say, the next 40 years. Just don't stress too much: You're not married to the ring and can always make changes to it (add diamonds or go from white gold to platinum) later on to mark a special anniversary.
Pro Tip: Don't pick a wedding ring that overpowers your engagement ring. Your rings will look best together if the bands are similar in width.
4. Make Sure Your Wedding Band Fits Your Lifestyle
You're going to wear this band every day, so the goal is to choose something that seamlessly becomes a part of your life. If you play sports or an instrument, a slimmer ring with rounded edges (appropriately called the "comfort fit") may make the most sense.
Pro Tip: If you work with your hands or are really active, go for platinum or other metals that are extra durable.
5. Find A Reputable Jeweler
After time, you may need to have your wedding band resized or you may even want to customize it further for an anniversary. Having a reputable jeweler you can trust with your most precious piece of jewelry is important!
Thankfully, at The Ring Austin you can have both. Not only do we have one of the largest selections of men's and women's wedding bands to choose from, we also have an in-house jewelry ready to make sure your wedding band stays as perfect as the day you said "I do".
About The Ring Austin
The Ring Austin is sort of like a jewelry store…just better. It's more relaxed and fun. More real, open and honest. And those aren't just fancy words. Our jewelry cases are unlocked and open. We have an entire wall of diamonds right out in our showroom. And our ring prices are clearly and proudly displayed.
We are proud to carry the largest selection of wedding bands in central Texas. Visit us today to view our selection of classic, modern and alternative metal wedding bands for both men and women or work with one of our trained professionals to design a wedding band that is unique as your own love story.