Why Consider a Bezel Set Engagement Ring
Why Consider a Bezel Set Engagement Ring
Posted on Saturday, August 26th, 2017 at 10:26 am by Shannon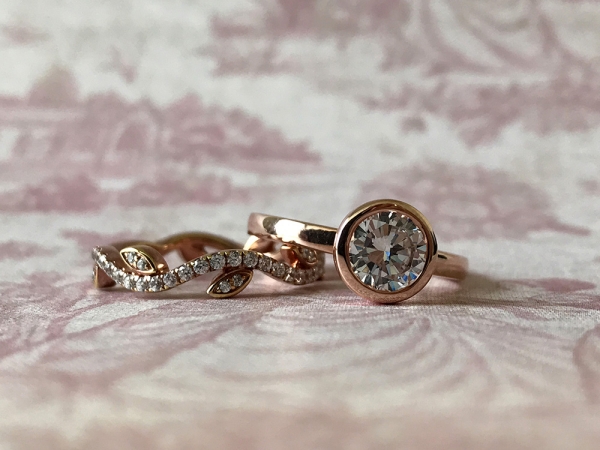 Bezel set rings are a classic style that is making a comeback. What makes them so desirable to some women? For starters, this ring style uses metal to surround the center stone for protection, but it also offers a unique look. A bezel set diamond setting is stunning when featured at the center of an engagement ring, but also looks utterly unique when used in accent stones and wedding bands.
What should you consider before purchasing a bezel set engagement ring? Here are just a few things:
Bezel Setting vs. Prong Setting
If you want to ensure that your valuable stone is kept as safe as possible, choosing a bezel set engagement ring is your best bet! Unlike a prong set ring, which only protects the small parts of a diamond that the prongs cover, a bezel set ring surrounds your diamond in 360 degrees of metal. This metal acts as a protective cushion from any potentially dangerous surface that could damage your diamond.
Prong settings leave the diamond more exposed, so if you live an active lifestyle your diamond might be at a higher risk of getting damaged. On the flip side, since a prong setting uses less metal more light is able to be filtered through the diamond. This causes prong set diamonds to appear more brilliant than bezel set diamonds.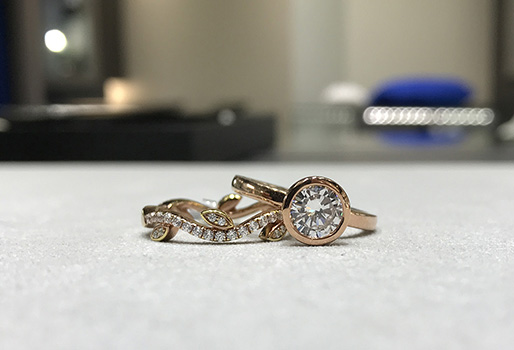 Advantages of Bezel Settings
If you live a highly active lifestyle, or work in an environment where your ring is likely to get bumped often, bezel settings are a great choice! A stone held in a bezel setting is less likely to get loose and fall out, making this setting an excellent choice for active people.
Bezel setting can also be great at hiding a gemstone's visible defects, such as chips or inclusions. If you are opting for a softer gemstone, such as an opal or emerald, a bezel setting will protect them from scratches and chips better than a prong setting would.
Bezel engagement ring settings can also help your diamond appear bigger. Because bezel set rings are unique, every curious friend will want to look at your ring and take it in fully. When they do this, their eyes will naturally fall on the metal frame that the bezel makes and the beautiful diamond that the frame protects.
Interested in seeing one of the most popular bezel engagement and wedding band sets? Meet Isabel.