We Want To Thank You For Giving
We Want To Thank You For Giving
Posted on Friday, November 4th, 2016 at 4:34 pm by Shannon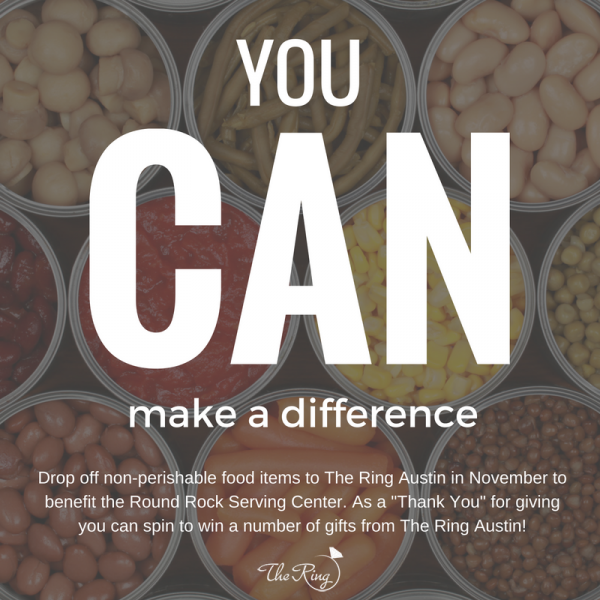 At The Ring Austin we are not only passionate about helping couples find the perfect engagement ring but we are also committed to giving back and improving our local community. This month we need YOUR help to collect food to give each and every family in Round Rock and the surrounding areas the opportunity to have a Thanksgiving meal.
We have partnered with the Round Rock Serving Center to collect non-perishable food items in the month of November. Simply visit The Ring Austin at 110 E. Anderson Lane in Round Rock to drop off items in need like canned vegetables, fruit and soup or other items like cereal and pasta. As a "Thank You" for giving you can spin a wheel in the store to win awesome prizes and gifts to The Ring Austin.
Our goal is to collect at least 500 cans of food from now until November 20, 2016 and we need your help!
About The Round Rock Serving Center
The serving center's pantry serves 1,100 families every month in southern Williamson County. 14.7% of residents in Williamson County do not know where their next meal will come from.
As a local non-profit, the Round Rock Serving Center must rely on donations and volunteers to be able to provide food to people and families in need. Your food donation is critical because many times the Serving Center does not have enough inventory to accommodate the number of families in need. To learn more about ways you can help, visit ww.rrasc.org.