The Hottest Engagement Ring Trends Right Now
The Hottest Engagement Ring Trends Right Now
Posted on Monday, September 5th, 2016 at 3:22 pm by Shannon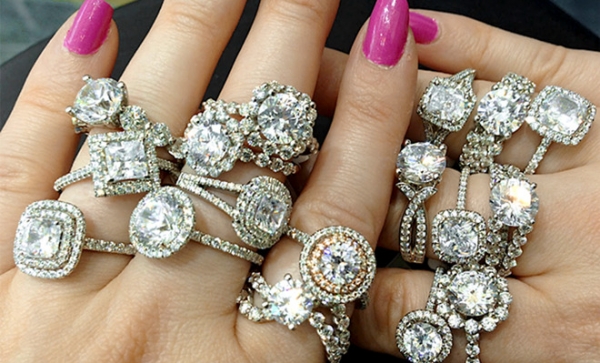 At The Ring Austin we are passionate about helping couples find the perfect engagement ring to symbolize their love and commitment to each other and designing unique, one-of-a-kind rings that highlight their own individual styles. Here are just a few styles and trends we've noticed couples are loving this year when it comes to buying an engagement ring.
Rose Gold Engagement Rings
There is a reason rose gold engagement rings have grown in popularity over the years: the romantic rose color complements every skin tone and is a subtler setting for white diamonds than traditional gold. Rose gold is perfect for a vintage inspired engagement ring but also looks equally beautiful in a modern setting.
Halo Engagement Ring Settings
The Halo Engagement ring first made its debut during the 1920's, but it is definitely making a comeback. Why? The halo ring gives you more bang for your buck. This setting style is made up of a center gemstone that is surrounded by a collection of smaller diamonds. These smaller diamonds flash light and focus attention back on the center stone which makes even a small diamond look much, much larger.
The Halo engagement ring styles also offers limitless options to create a unique engagement ring. Choose a colored diamond or gemstone to make the bold statement, mix and match metals to add your own personality to the ring or opt for a fancy shaped center gemstone to truly make a one-of-a-kind ring.
Splint Shank and Asymmetrical Bands
Traditionally engagement rings have focused on the center stone, leaving the band plain. Nowadays, some of the most eye catching styles feature intricate details, split shanks and curving asymmetrical designs. If you are looking to add an interesting dimension to your engagement ring, consider complimenting your center gemstone with a unique band design to give it a more architectural, fashion forward feel.
Vintage Inspired Engagement Rings
If you are looking to capture your love store in a unique engagement ring, go for a vintage inspired design. Even those your new engagement ring won't be decades old, you can choose a vintage style or design your own vintage ring and give it an elegant, timeless, one-of-a-kind feel.
As for what defines the vintage aesthetic, it is truly all in the details. From etched metals, floral motifs, triple set stones, and even colored gemstones like sapphires, rubies and emeralds these details will give any ring an old-world feel.
Why not just shop for a real vintage engagement ring? One of the benefits of rocking a vintage inspired ring vs. the real deal is true vintage gems tend to be more expensive. Plus, when you design your own you have more options and won't have to worry about falling in love with something you simply cannot find anywhere.
Creating Your Own Design
If you are trying to find the perfect engagement ring, it may end up being one you create yourself. Designing a ring can be an intimidating process and for most people who have never purchased an engagement ring before it can seem like a hassle. So where do you begin? Start with a concept, idea or a setting you like then personalize it to make it a ring you truly love and will want to wear forever. While it may seem like this is the most expensive route to go, it can actually help you stay within your budget. For example, if you know you want a large center diamond then choose a metal that will allow you to get what you want without sacrificing the size or quality. Creating your own engagement ring can also reduce the hassle most people experience while shopping for jewelry – why drive all over town to multiple jewelry stores trying to find the perfect ring when you can create it?
Visit The Ring To Learn More
Whether you are thinking about popping the question or already know what type of ring you have in mind we can help you find exactly what you are looking for!