Engagement Ring Budget Tips
Engagement Ring Budget Tips
Posted on Wednesday, October 19th, 2016 at 1:50 pm by Shannon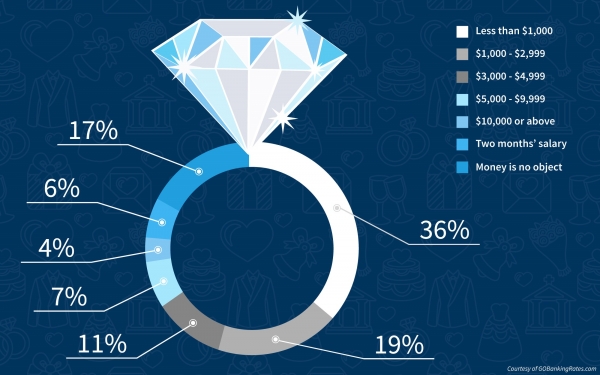 Engagement rings can be expensive! Check out these five tips on ways you can maximize your budget to find the perfect engagement ring.
Outside of a home or car, buying an engagement ring is likely one of the biggest purchases you will make! And with any large purchase, you are going to want to make sure you have a budget in mind before you begin shopping. Once you know your price range, check out these tips on way you can get the most bling for your buck!
1. Set yourself up for success when choosing a ring setting
If you are worried you won't be able to afford a large, fancy center diamond, don't worry. You can create the allusion of a larger diamond by picking a halo engagement ring setting! With this setting, the center diamond will be encircled with a series of smaller stones which makes it appear larger and more vibrant.
2. Chose a Pure Grown Diamond
Pure Grown Diamonds are identical to mined diamonds and share the same physical, chemical and optical properties as their natural counterparts – but cost 20-40% less. They don't cost less because they lack the quality of mined diamonds, rather, the money saved by growing diamonds in a lab vs. harvesting them in mines is passed onto you! Pure Gown Diamonds are also environmentally friendly! Grown diamonds are manufactured in an advanced facility using modest amounts of energy. Compared to mining diamonds, this growing process has very little direct impact on the environment. Grown diamonds are a responsible choice for environmentally conscious consumers.
3. Consider Adding Pavé Diamonds
Just like a halo setting, pave diamonds also help give any engagement ring a larger, flashier look! Also, because pave diamonds are much smaller they are also less expensive so you can add more without breaking the bank. Think about buying a slightly smaller center stone, and then lining the entire band in pavé diamonds.
4. Go For The Gold!
While platinum engagement rings are very popular right now, it is also 30 times rarer than gold which means you will pay much more for this metal type. To get the same fashionable look as platinum consider choosing white gold. White gold is also resistant to rust, tarnish and corrosion and looks just as stunning as platinum.
5. Consider Creating
Your Own Engagement Ring One of the best ways to ensure you are staying within budget is to create your own engagement ring! While this sounds expensive, it can actually save you money and help you get exactly what you are looking for. With our state-of-the-art jewelry design technology, you can pick the metal, setting, diamond, style and more to ensure you are getting the most bling for your buck. And the best part of creating your own engagement ring is that it's fun and more personal than picking one out from an ordinary jewelry store.