Brandon asked, Ashley said
Brandon asked, Ashley said
Posted on Tuesday, January 12th, 2016 at 11:52 am by Administrator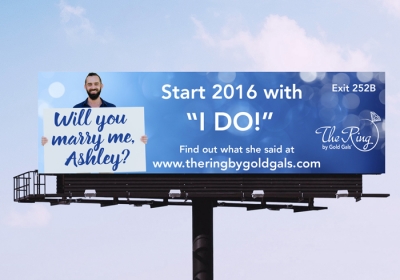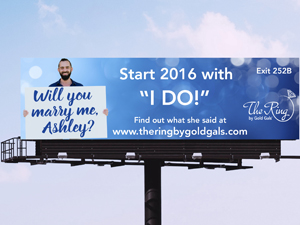 A few months ago we asked if anyone was willing to do a grand proposal on our billboard the first week of January. We got calls, emails and Facebook messages, but this one really stuck out.
Brandon was ready to marry his girlfriend, Ashley, and so excited to begin his life with her together as husband and wife. Every one in our store could feel the anticipation when he came in, on several occasions, and we were so glad to be a part of his story.
He came in the week before Christmas to choose a stone to propose with and we can't wait to see the ring they pick out together.
We spoke to Brandon a few days after the billboard when up and he proudly shared that, "She said YES!". Brandon made us laugh when he said they drove all the way up to the billboard and she didn't see it at first. It's not every day your boyfriend is on a billboard, so w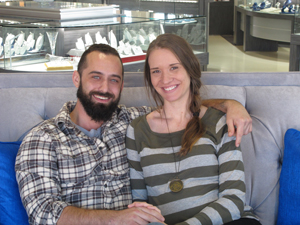 e won't give her too hard of a time!
When Brandon pulled into the parking lot Ashley did a double take and yes, "YES, OF COURSE, YES!" and the rest was history.
They came into the store this weekend to start looking for her engagement ring and they never took these sweet smiles off their faces!
Congrats, Brandon and Ashley, we wish you a lifetime of happiness together!