(spi-nel)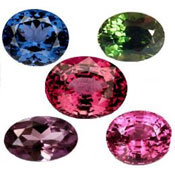 HISTORY and LORE
Spinel is a good candidate for the title of "History's Most Underappreciated Gem." Some ancient mines that supplied gems for royal courts from Rome to China produced spinel, but it was usually confused with better-known stones like ruby and sapphire.
In ancient times, the mines of central and Southeast Asia yielded exceptionally large spinel crystals. These fine stones became known as Balas rubies, and some of them were the treasured property of kings and emperors, often passing through many hands as spoils of war. As a result, some of the world's most illustrious "rubies" are actually spinel.
One of the most famous examples is the so-called "Black Prince's ruby." This historic crimson-red gem is set in England's Imperial State Crown and displayed in the Tower of London. Smoothly polished and roughly octagonal in shape, it was probably mined in the mountains of Afghanistan. It first appeared in the historical records of fourteenth-century Spain, and was owned by a succession of Moorish and Spanish Kings before Edward, Prince of Wales—the "Black Prince"— received the stone in 1367 as payment for a battle victory.
Modern technology hasn't helped spinel's confused identity as far as the general public is concerned. This is due largely to the widespread use of synthetic spinel as an imitation for many other gems. Most customers aren't even aware that there's a natural version of the stone.
VALUE FACTORS
Color: Spinel offers a range of hues, from orange to intense "stoplight" red, vibrant pink, and all shades of purple, blue, and violet through bluish green. Intense reds and pinks are caused by traces of chromium. The higher the chromium content, the stronger the red hue. Orange and purple stones owe their color to a mixture of iron and chromium. Violet to blue spinel can be colored by trace amounts of iron, and vibrant blues owe their saturated color to trace amounts of cobalt.
Clarity: Often lightly included. Minor clarity characteristics are accepted.
Cut: Spinel is most often cut in cushion and oval shapes. When properly proportioned it has excellent brilliance.
Carat Weight: Seldom over 8 or 10 carats, especially in fine quality
GEMOLOGY
Spinel is composed primarily of magnesium, aluminum and oxygen; chemical formula MgAl2O4.
CARE
Hardness: Moderate to high scratch resistance. Rates an 8 on the Mohs Hardness Scale.
Toughness: Good resistance to chipping and breaking.
Stability: No routine concerns for gem owners.
Cleaning: Liquid cleaner, or detergent and water are usually the safest.