(koo nts-ahyt)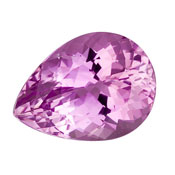 HISTORY and LORE
Kunzite is a relative newcomer to the array of colored stones available for use in jewelry. As the story goes, specimens of an as-yet-unidentified pink crystal were found in San Diego County, California, and sent to Tiffany & Co.'s mineralogist, George Frederick Kunz. The year was 1902. Kunz was able to confirm that the crystals were, in fact, spodumene, but the previously unrecognized color made the find a new variety of the mineral.
Charles Baskerville, a chemistry professor at the University of North Carolina and later the City College of New York, subsequently named kunzite in honor of George Kunz in 1903.
In the years since, kunzite has proven to be a highly desirable gem.
VALUE FACTORS
Color: Occurring in attractive shades of pink to violet, kunzite crystals are also often large.
Clarity: It is not uncommon to find kunzites that are virtually inclusion-free, so the presence of many eye-visible inclusions will greatly lower its value.
Cut: Though difficult to cut due to its two cleavage directions, it lends itself to lovely finished gems that show magnificently in fine jewelry. Usually faceted in traditional shapes and styles.
Carat Weight: It's not unusual to find kunzite in large sizes. There is an extremely large example that weighs 648.10 carats.
GEMOLOGY
Kunzite is the best-known variety of the mineral spodumene. It's named after famed gemologist George Frederick Kunz, who was the first to identify it as a unique variety of spodumene. Kunzite gets its delicate color from trace amounts of manganese. California's San Diego County is an important source of kunzite.
Chemical formula LiAlSi2O6.
CARE
Kunzites generally have good wearablility.
Hardness: Moderate scratch resistance. Rates 6.5 to 7 on the Mohs Hardness Scale.
Toughness: Kunzite can break under pressure or sharp temperature changes, or fade under heat and bright light.
Stability: Kunzite's color can be enhanced by irradiation followed by heat treatment.

As with naturally colored kunzite, treated color can fade with exposure to heat and light.

Cleaning: Warm, soapy water is safe to use when cleaning kunzite jewelry.