(kal-sed-n-ee)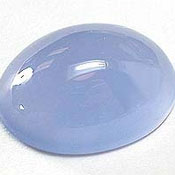 HISTORY and LORE
Though not familiar by name, an old and illustrious gem family. Treasured by humans since prehistoric times, chalcedonies were sacred and royal gemstones in early civilizations around the world.
Named for Chalcedon, an ancient trade center located in what is now Turkey.
Long used in Europe as a charm against ghosts.
VALUE FACTORS
Color: Range is almost unlimited. Many natural colors, and others from treatment.
Clarity: Translucent to opaque.
Cut: Cabochons, carvings, tablets, and beads in many shapes.
Size/Weight: many varieties are available in all sizes, and occur in pieces big enough for large carvings or other ornamental uses. (Normally not priced or sold by carat weight.)
TREATMENT
Often dyed, and in a wide variety of colors. Some techniques have been used since Roman times. The effects are normally permanent, and the treatment creates no special care requirements.
GEMOLOGY
A mineral species closely related to quartz. In fact, mineralogists consider it a quartz variety. Composed mostly of silicon and oxygen: chemical formula SiO2, which is the same as quartz.
Agate, bloodstone, carnelian, onyx, and sardonyx are well known chalcedony varieties. Others include:
Amethystine chalcedony – purple
Chrysocolla chalcedony – bright blue or blue-green
Chrysoprase – light yellowish green
Plasma – dark green with white or yellow spots
Prase – dark green
Sard – dark orange, brownish red, or brown
CARE
Chalcedony generally has good wearability.
Hardness: Moderate scratch resistance. Rates 6.5 to 7 on the Mohs Hardness Scale.
Toughness: Good resistance to chipping and breaking.
Stability: If dyed, color may eventually fade.
Cleaning: Liquid cleaner, or detergent and water. Ultrasonic is usually safe.