Will You Marry Me?
Will You Marry Me?
Posted on Wednesday, November 11th, 2015 at 11:07 am by Administrator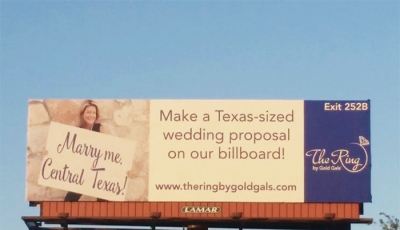 In case you haven't seen it, The Ring by Gold Gals recently purchased a billboard on Interstate 35 to help Central Texas make a few grand proposals this holiday season! We thought it would be a fun way to spread some love!
One of the best parts of selling engagement rings and wedding bands is that we get to be a small part of our couples engagement and wedding stories. Most of the time, we just get to hear how they met when they come in to purchase their ring, sometimes it's a couple shopping together and sometimes it's the guy coming in wide eyed looking for a little help picking out the perfect ring. So, we thought it would be fun to play a bigger role this holiday season and wanted to take our involvement a step further. We purchased a billboard from November 2 through January 10 with the idea that a handful of our customers could use our billboard to make a free Texas-sized proposal! After all, when you're in love don't you just want to shout it from the rooftop?!
Our billboard just went up last week and we are so excited to have our first proposal in the works. You'll have to keep driving by and checking our blog to find out who's proposing to who! You never know, you could see your name on the billboard!
If you haven't seen it yet, it is northbound on I35 near 1825 in Pflugerville. If you want to make your proposal, email us, call the store at (512) 258-4653 or simple stop by and let us know. We're located in downtown Round Rock off Anderson Avenue.
We're selecting five proposals for our billboard and we currently have one spot left, so send us an email or give us a call today! We'd love to include you on one of our billboards!
May your proposals be grand and your engagements rings beautiful!