Unique and Personal with a Beautiful Touch
Unique and Personal with a Beautiful Touch
Posted on Friday, October 23rd, 2015 at 8:38 am by Administrator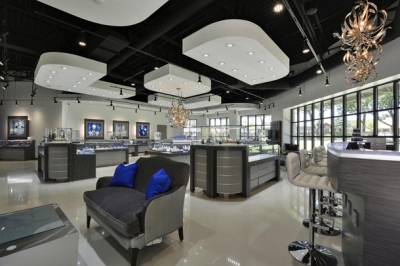 Creating The Ring by Gold Gals was a labor of love, a long-time dream that was finally realized a few months ago. We worked tirelessly to put together the perfect store, a meld of many design elements with a touch of technology in an area that we knew would appreciate the design aspect of our engagement rings.
At the Ring, we have a vast selection of bridal and engagement rings along with fine jewelry. Our speciality is assisting customers in designing and creating their own unique bridal jewelry. With state of the art personal design kiosks in the store our customers choose the setting, metal color, size and shape of their diamond and any gemstones they would like to incorporate to create their dream engagement or bridal ring.
Every ring we help our customers create is as unique as they are. Each ring is extra special and created individually for our customers proposal. Our customers typically come in with an idea of their dream design and we help make that dream ring come true with our design software and expert sales team.
When we built The Ring by Gold Gals we had our ideas and inspirations of what we wanted to incorporate to create the perfect store. The Robin Bond Interiors team assisted with their expertise and helped put the final touches on our design. The result was a serene and beautiful space to shop.
We loved the way the design turned out and we can truly say, we've never seen a jewelry store quite like The Ring. A well deserved thank you goes to the talented team at Robin Bond Interiors
If you haven't come in to see us, we hope that you will soon. We have our official ribbon cutting with the Round Rock Chamber of Commerce next Wednesday, October 28th at 4p.m. and we'd love for you to join us!
We look forward to helping you select or create your dream engagement ring. For now, we'll share a few of our favorite views from the inside of The Ring!