She said YES!
She said YES!
Posted on Tuesday, December 15th, 2015 at 9:07 am by Administrator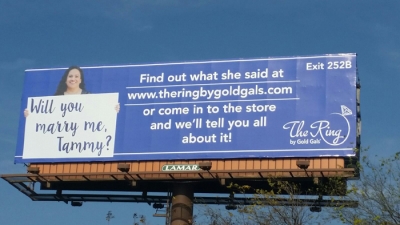 Here's the story behind our latest billboard proposal.
Tammy and Rita met at work 10 years ago. Three years ago they got put on a project together and became good friends. There always seemed to be a connection and they had similar work styles, so things progressed quickly.
At lunch one day Tammy told Rita she needed her to know how she really felt. She knew that she would rather risk their friendship than lie about her feelings. At that moment, Rita said "it was like a wave of sunshine fell on me. After months of wondering why I felt so happy and excited about seeing her and how being around her I felt so alive, it all made sense. I was in love with my best friend! As cheesy as that sounds, it is the only way I can explain how it felt. I would have never imagined I would fall in love with a Dallas loving, Texas Longhorn fanatic, crazy country woman from Oklahoma!"
Rita said Tammy sees her for who she is, past the insecurities and the chaos, "never have I looked forward to seeing someone like I do with Tammy. Never have I missed someone the minute they leave a room. The craziest part of it all is, I know for the first time, I don't have to wonder, it is the same for her! She loves me too, crazy and all! I can't see my life without her in it, and I look forward to making the most of each day we are blessed with, now to infinity with her by my side."
Rita surprised Tammy last week with dinner out after work. While she had hoped to have all of their boys at dinner, a quiet dinner for just the two of them was rare! She was completely surprised when Rita pulled over to see our billboard on the side of Interstate 35. With a special playlist of songs and an evening drive in their favorite truck, they celebrated and danced on the side of the road to their favorite Meghan Trainor and John Legend song, "Like I'm Gonna Lose You."
According to Rita, it took Tammy a few minutes to stop shaking enough to drive so they enjoyed the rare moment alone. Well that and they didn't wanna leave our sign! When they got home, they immediately told their boys and their friends and the well wishes are already coming in!
Rita and Tammy, we wish you the best! Congratulations on your engagement!