Gorgeous, Affordable Vintage Engagement Ri...
Gorgeous, Affordable Vintage Engagement Ring Styles
Posted on Friday, August 26th, 2016 at 1:14 pm by Shannon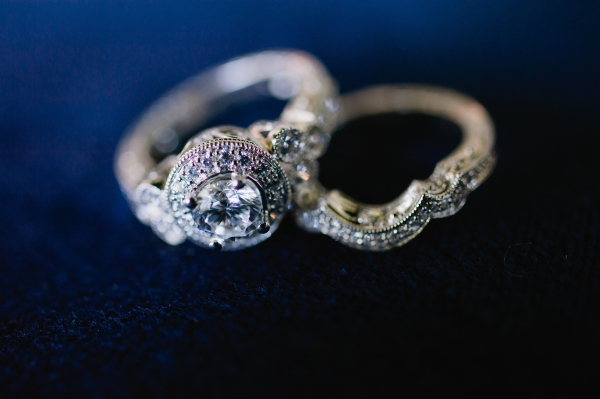 Whether you are shopping for a vintage engagement ring or looking to design your own, get inspired with these gorgeous, affordable vintage ring styles.
It's easy to see why vintage engagements rings are so sought after by couples looking to tie the knot. Vintage rings represent timeless love, beauty, commitment and a truly one-of-a-kind feel. As for what exactly defines "vintage" can be a bit more complicated.
Real vintage engagement rings are decades old and have been passed down from generations. Authentic antique engagement rings will not typically have a modern cut diamond such as a round brilliant or Princess cut diamond, unless the diamond was replaced at some point. The diamond that you see in a vintage style engagement ring may also not have the sparkling brilliance that you are used to seeing in modern diamonds. This is because diamond cutters did not have the technology or understanding that modern day diamond cutters have acquired throughout history. When shopping for authentic vintage engagement rings plan to spend a lot of time searching for the right one.
On the other hand, vintage-inspired engagement rings are rings that have been crafted to fit certain vintage era styles – but are not decades old like their authentic counterparts. What are the benefits of rocking a replica vs. the real deal? One of the main benefits of buying a vintage inspired ring is that you will save money since authentic vintage diamonds can be very expensive. Plus you will have plenty of options to choose from and won't have to spend tons of time searching for or waiting for the perfect authentic ring to show up online or at an estate sale.
So where do you start when shopping for vintage inspired engagement rings? Keep reading to take a look at popular vintage engagement ring replicas from every era!
Victoria Era – 1837-1900
As the name implies, this period was named after Queen Victoria who became the Queen of England in 1837. Queen Victoria is known for inspiring fashion and jewelry trends of the time. Her engagement ring featured a snake motif (a symbol of eternal love) and an emerald green diamond, which was her birthstone. Because of this, it was very common for vintage wedding and engagement rings to feature the bride's birthstone and not a traditional diamond like we see today. Additionally, this historical period is where the very first diamond solitaire engagement rings originated! Queen Victoria's passing in 1901 is seen as the end of this jewelry period and the beginning of a new one when her son Edward took on the throne bringing the Edwardian Ring era.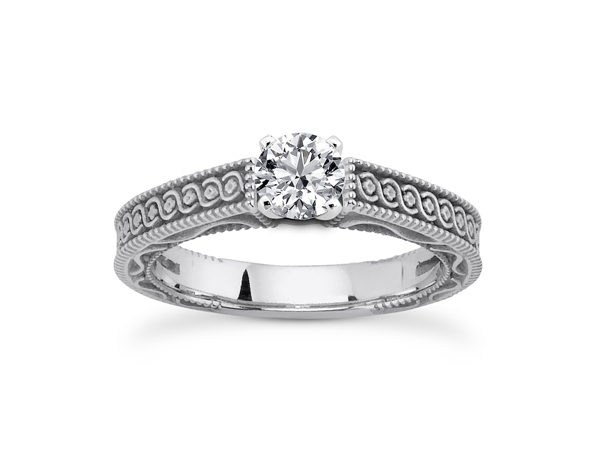 Edwardian Ring Era – 1901-1920
Technological advances in metal working allowed jewelry, including engagement rings, to be made with platinum which had never been done before the Edwardian era. Due to platinum's strength it allowed jewelers to craft much more intricate and detailed designs in rings. This type of decorative enhancement is often referred to as milgrain and often made rings look like they were set in lace instead of metal. Rings during this period can be described as light, airy, feminine and elegant. Diamonds were the preferred gem of choice.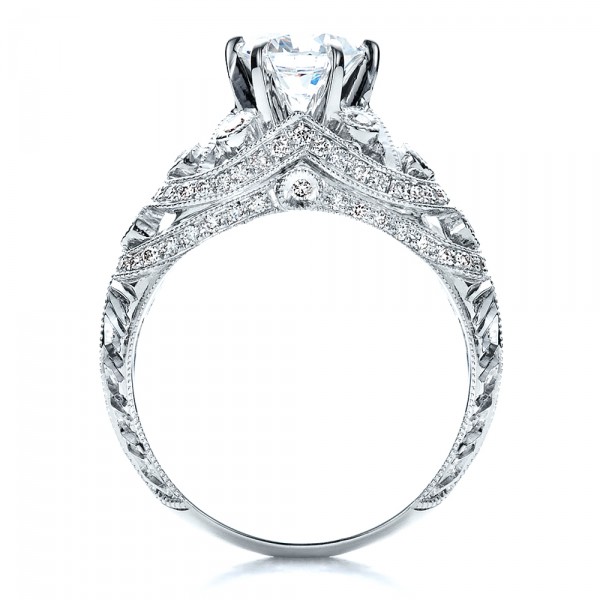 Art Deco – 1920-1935
When World War I began in 1914, jewelry manufacturing came to a halt. Most materials, like platinum, became scarce as more and more precious metals were being used for ammunition and gun production. After the war ended in 1920, the era became known as the "roaring 20's" and brought with it the view of living life to the fullest which inspired a new trend in jewelry. One of the most prominent features of the Art Deco era was the use of bold, geometric linear lines. Colored gemstones were used more often to add color and create bold, flashy designs. During this era white gold became increasingly popular as the cost of platinum was still high after the war. Major designers of the time were Tiffany, Cartier, Van Cleef and Arpels, Harry Winston, Lalique and Mauboussin, among others.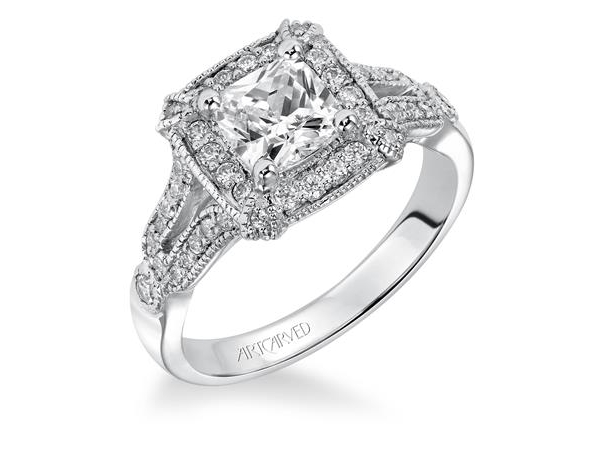 Retro – 1935-1950
Jewelry production rebounded during this time and the main focus was Hollywood glam. This era is identified with bright, highly polished yellow and rose gold. Floral accents were also very popular during this time as it highlighted the large, 3D look many women craved. During World War II platinum metal once again became scarce but this time gold became the metal of choice.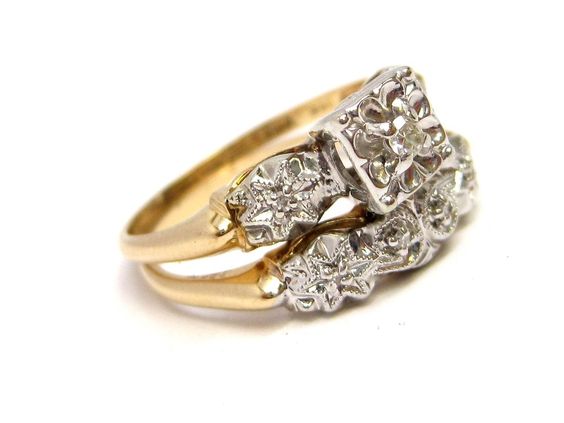 Modern – 1950+
During the 1950's the U.S. experienced a period of economic growth and the prosperity of the time is reflected in the jewelry. Flash, dramatic designs featured not one, not two but many, many diamonds. Engraved finishes and metal accents like braided ropes were also popular. Platinum once again increased in demand and became the go-to choice for jewelry.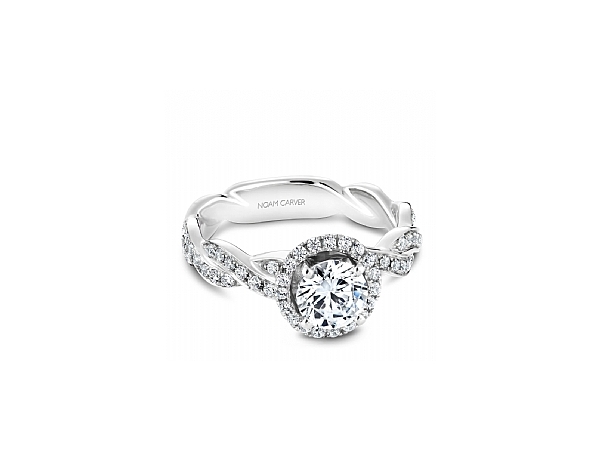 Which vintage engagement ring style do you think best fits you or your bride's personality, or is it a combination of several? If you can't decide we encourage you to visit us at The Ring Austin to try on one of the many vintage inspired engagement rings we have available. If you like more than one era and want a ring that combines several features we can help with that too! Our state of the art engagement ring design tools can help you create the perfect ring.