Fall in Love With Rose Gold
Fall in Love With Rose Gold
Posted on Monday, August 29th, 2016 at 10:27 am by Shannon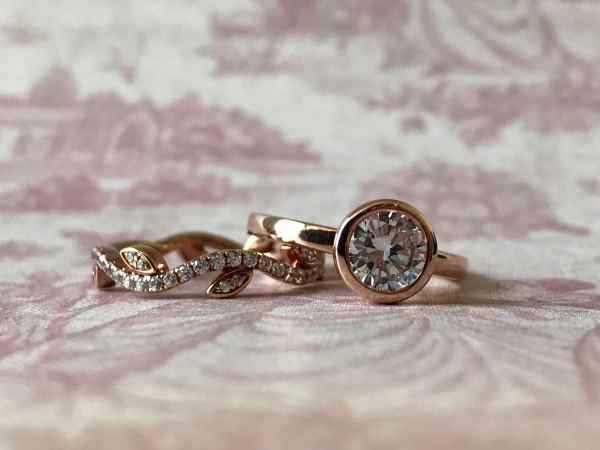 If you are shopping for the perfect rose gold engagement ring or wedding band in Austin, then you need to visit us at The Ring!
Rose gold is the new "it" metal when it comes to engagement rings. Read on to learn what makes this type of gold so popular for people who are popping the question!
Why Choose Rose Gold?
There are many reasons why brides to be choose rose gold for their engagement rings: the warm, rosy hue complements every skin color, blends well with bright diamonds or colored gemstones, and it adds a fashionable touch to any engagement ring design.
What Makes Rose Gold Rosy?
Rose gold is just one of many variations of gold engagement rings available. Since pure gold (24 carats) is too soft to make jewelry, metal alloys are mixed with pure gold to create the durable rings we wear every day. In order to make the rosy pink hue found in most engagement rings, pure gold is mixed with a copper alloy. In general, the more copper in the mix, the redder the ring will be.
Why Is Rose Gold So Popular?
Rose gold first became popular in the early 19th Century in Russia which is why it is sometimes referred to as Russian gold red gold and pink gold. Over the last 200 years rose gold has drifted in and out of popularity but has recently made a comeback. This romantic hue has been the feature of many high profile designers including Chanel, Dior and Michael Kors. Apple even made an iPhone case in rose gold!
For many brides to be, rose gold strikes a perfect balance between modern and traditional. Do to rose gold's rich history it is also the perfect choice when designing a vintage inspired engagement ring or wedding band.
Should You Purchase a "Trendy" Engagement Ring?
As the word "trendy" implies, it is hot one minute and cold the next. If you are like most brides the thought of wearing an out of style ring for the rest of your life is less than desirable. So can you count on rose gold to stay on-trend? Maybe, maybe not.
When it comes to engagement rings, what's more important is the love story and commitment the ring represents – not style trends. So if you fall in love with the feminine, romantic rose gold color and know that it will remind you of your commitment to your partner for the rest of your life, then YES! Choose a rose gold engagement ring setting. If you are having second thoughts, or are not sure rose gold is right for you, don't worry! There are plenty of other metal options you can choose from.
Where To Find Rose Gold Engagement Rings In Austin
If you are shopping for rose gold engagement rings or wedding bands in Austin you need to visit us at The Ring! We have an unparalleled selection of rings – over 1,600 options available – or we can help you create your own unique one-of-a-kind piece.