Shopping For An Engagement Ring? Read This...
Shopping For An Engagement Ring? Read This First!
Posted on Sunday, October 1st, 2017 at 4:25 pm by Shannon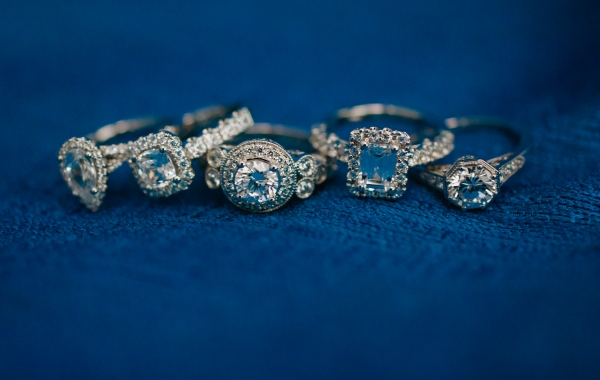 The 2017 Guide to Buying an Engagement Ring!
We are well into 2017, but the trends are still rushing in. The process of purchasing an engagement ring is ever evolving, but there is one constant – the delightful experience The Ring Austin offers. Enjoy this quick read which includes everything you need to know about shopping and finding the perfect engagement ring!
Buying an engagement ring is way different than it used to be. Before online shopping became the norm, brides and grooms visited anywhere from 4-6 stores before making a purchase. Now, approximately 60% of brides and grooms say they do their ring-buying research online instead.
If you are overwhelmed with the engagement ring buying process – or have just started on your journey – keep reading to get our expert tips in our Engagement Ring Buying Guide!
Tip #1 – Find a Trusted Jeweler
A trusted jeweler isn't always a big box store or a household name. Shopping at a big box jewelry chain may seem like a good way to get the best prices but that couldn't be farther from the truth. The reality is national chains markup diamond rings by an average of 300% up to an unbelievable 1000%. Have you ever wondered why certain jewelry chains are ALWAYS running a 20% off or more discount special? The huge markup allows them to do that.
Shopping at a local jeweler not only means you will have a local person you can trust to take care of your precious ring but also that you will be getting the most ring for your budget. This is a special moment that you will want to remember, take advantage of our intimate setting to experience it.
Tip #2 – Learn the 4 C's of Diamonds
Since diamonds are big ticket purchases, it's important to know what you're paying for and how factors like cut, carat, color and clarity affect the look of your stone. What makes a flawless diamond more valuable than an included one? Get familiar with the 4 C's or come into our store to have us explain.
Tip #3 – Determine Your Budget
Outside of a home or car, buying an engagement ring is likely one of the biggest purchases you will make! And with any large purchase, you are going to want to make sure you have a budget in mind before you begin shopping. Once you know your price range, check out these tips on way you can get the most bling for your buck! Sometimes it can be intimidating to ask for prices or not try on your dream ring because you "think" it is outside of your budget. That is why we offer open cases and clearly marked prices. At The Ring, no one will be peering over your shoulder or pressuring your choices
Tip #4 – Explore Various Settings
The frame around your center stone can determine the style of your ring, and there are lots of options out there. Need some inspiration? Check out the hottest trends in engagement rings this year. This is a great starting point when making ring design plans!
Tip #5 – Consider Lab Grown Diamonds
Pure Grown Diamonds share the same physical, chemical and optical properties as their natural counterparts. Because these diamonds are grown in tightly controlled conditions they are almost entirely devoid of impurities. A colorless Pure Grown Diamond is classified as type IIa which is the purest form of diamond known to man. Conflict Free diamonds are not just a trend now, but have much deeper meaning.
As a bonus, Pure Grown Diamonds are 20-40% less but still have the exact same quality and brilliance that you would expect from a mined diamond.
Tip #6 – Make it Personal
Over 50% of brides-to-be rate sentimental value to be the most important feature of their engagement ring so don't just settle for the first one you think your fiancé would like. You also may want to consider designing your own engagement ring.
While it may seem like this is the most expensive route to go, it can help you stay within your budget. For example, if you know you want a large center diamond then to choose a metal that will allow you to get what you want without sacrificing the size or quality. Creating your own engagement ring can also reduce the hassle most people experience while shopping for jewelry – why drive all over town to multiple jewelry stores trying to find the perfect ring when you can create it?
Tip #7 – Get It in Writing
Diamonds one carat or larger should be accompanied by a diamond-grading report issued by an independent gemological association such as the GIA or the American Gem Society. This certification is important because it gives consumers an added layer of confidence that the diamond they are buying is as described by the seller. In addition to grading the diamond's cut and carat weight, the diamond certification will also include grades on the clarity, color and symmetry.
Tip #8 – Does it Come with A Warranty?
There are so many things to worry about when you are first getting engaged and married; at The Ring we don't think your engagement ring should be one of those things. When you buy your engagement ring with us we will cover anything and everything, from the top of the ring to the bottom for LIFE. This includes, but is not limited to, stone replacement, re-tipping prongs, sizing, and /or refurbishing. Learn more about our warranty options here.
Tip #9 – Make it Fun!
At The Ring Austin, we believe that buying an engagement ring shouldn't be a hassle – it should be a romantic and memorable! That's why we have wide open cases, that's right you can reach right in and try on as many rings as you like, and the biggest selection of rings in Central Texas. All of our cases are clearly marked so you won't have to worry about being forced to look at rings outside your price range. We even make it easy to design your own ring with our state of the art software.
Want more? Visit us in store at 110 E. Anderson Ave in Round Rock or click here to start designing your own engagement ring!