5 Reasons To Shop At The Ring Austin
5 Reasons To Shop At The Ring Austin
Posted on Friday, March 17th, 2017 at 11:02 am by Shannon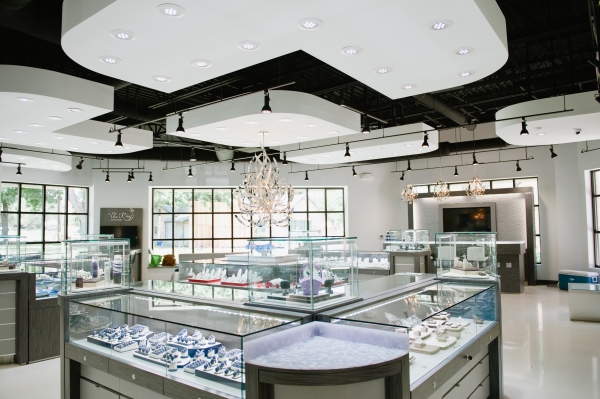 The Ring Austin is sort of like a jewelry store…just better. It's more relaxed and fun. More real, open and honest. And those aren't just fancy words. We are passionate about helping couples find the perfect engagement ring to symbolize their love and commitment to each other and designing unique, one-of-a-kind rings that highlight their own individual styles.
What makes shopping at The Ring better than other jewelry stores?
1. Our Jewelry Cases Are Wide Open
Yep, you read that right. You can reach right in and grab as many rings as you want without having a high-pressure sales person stand over you. We make it even easier to shop by prices clearly labeled so you'll never fall in love with a ring that's outside your budget.
2. We Have More Styles And Designs Than Anywhere Else
We have over 1,600 engagement ring styles, designs and options for you to choose from! That's 10x MORE engagement rings than some other jewelry stores around Austin. Interested in personalizing your ring? We can help with that too. With our state-of-the-art jewelry design software, we can design and create the ring of your dreams.
3. You Can Date Our Rings
You wouldn't marry just anyone… right? So why would you settle for just any ring? When you start shopping for engagement rings, you're likely to find several you like. At The Ring Austin, we let you take our rings home so you can see which one is perfect for you.
4. Your Ring Will Never Have Been Worn By Anyone Else
Some people may be ok with wearing a ring that's been tried on or worn by others – but if you're looking for a truly special engagement ring then you need to visit The Ring Austin. When you've found the engagement ring you love, we'll have it created just for you. That means your ring will never have been worn by ANYONE else. How special is that?!
5. Buying An Engagement Ring Should Be A Blast
At The Ring, we pride ourselves on creating a jewelry buying experience like no other. All of our cases are clearly marked so you won't have to worry about falling in love with a ring that is out of your budget. We have state of the art jewelry design software and a highly trained staff to help you find exactly what you are looking for. We have several financing options available and are more than happy to help you find the best option to fit your needs. The best part? We are passionate about helping couples find the ring that symbolizes their love and commitment not meeting sales quotas so you won't have to deal with high-pressure sales tactics.
The Ring Austin is a local company, and the first to bring this better way of buying an engagement ring to our town. Because doing jewelry the old-fashioned way – with the waiting and guessing and salespeople and the overpaying – is just stupid. So we built a better way. Visit us in store at 110 E. Anderson Ave. in downtown Round Rock today!